Easiest way to download spyware on husbands phone
It allows you to record keystrokes, e-mails, online conversation, password, Web site, and take screen snapshots at intervals like a surveillance camera, and deliver spy logs to you via E-mail or FTP at set intervals. There aren't even any visible files that can be seen! If you want to find out if your spouse is having an affair, SurveilStar Email Monitor lets you secretly monitor emails sent and received by your significant other.
This unparalleled level of detail will ensure that you can monitor all of your spouse's electronic communications. While monitoring websites and emails can be effective protection against a cheating spouse, monitoring instant messages will reveal the most candid truth about how your significant other really feels about you. The spontaneous communication that occurs via instant messenger makes users less guarded and more likely to reveal information that they would otherwise keep hidden.
Fortunately, with SurveilStar Instant Message Monitor, you can now discreetly monitor all instant messages with just a few clicks. In addition to recording websites your spouse visits, SurveilStar also blocks websites you don't want your loved one to see. Most other programs can only monitor OR block, but SurveilStar does both. If you wish to block sites, just add keywords or specific website addresses to your block list. Your spouse won't know when a site is blocked because all that appears is a generic error message.
Cell Phone Spy Without Possession
The real-time screen snapshots feature gives you the power to see everything on your spouse's computer screen - as if you were standing right there watching them type. Screenshots are captured invisibly and automatically, without alerting your significant other that images are being recorded. If you suspect a cheating spouse, then statistics state that you are probably correct. Among other types of technology, cell phones is the main tool used by cheating husbands to contact their dates, send sweet nothings or arrange "special" rendezvous. Whether by SMS or actual phone calls, the majority of extramarital exchanges will be made using the mobile phone not the Internet or Email.
With cell phone spy software, you can remotely monitor actions on your phone if you have the proper permission of the monitored party. It discreetly creates its own logs for call and text message activities performed on your phone. These logs are uploaded to your account.
spy app iphone 7?
app to spy on boyfriends text messages!
Jailbreaking is literally dead Now!?
spyware windows mobile.
5 Ways to Spy on Husband's Phone without Him Knowing;
The cell phone spy software will secretly record the GPS location of your cheating spouse. In case the application is unable to install, change the settings for applications and allow the phone to install applications from the source other than Google play store. Finally, click the "Start monitoring" button. It will automatically delete the app's icon from the phone and start the tracking process. Whoever now uses the phone will not be able to realize that they are being tracked. Now, that everything required has been done, you can start monitoring the activities on the phone using any browser with the help of this FoneMonitor spy apps for cheating spouses.
It's a safe Android and iOS device monitoring software that can be used only for the exact purpose of parental control of their kids, by employers to monitor the devices that belong to them as well as on which the employees work, or by you when you have a consent of the device owner. That could result in severe monetary and criminal penalties imposed on the violator if you failure to do so and it is likely to result in violation of applicable law. That would be better to consult your own legal advisor with respect to legality of using the application in the manner you intend to use it prior to registering, downloading, installing, and using it.
FoneMonitor would not be held responsible if a user chooses to monitor a device the user does not have the right to monitor; nor can FoneMonitor provide legal advice regarding the use of the software. Sign Up. Sign in. Login Sign Up. All Topics Spy on Text Messsage 1. Check Text Message Online 2. Top 10 Spy Text Apps 5. Spy on iPhone Text Messages 6. Spy on Text Messages from Another Phone 7. Top 10 SMS Tracker 8. Top 9 Spy Call Recorder Apps 2. Spy on Facebook Messages 2.
Top 10 WhatsApp Spy Apps 3.
How To Spy On Your Spouse With Your Computer
How to Spy WeChat Conversation 2. How to Spy on Cheating Spouse via Facebook 2. How to Spy on Your Boyfriend without Permission 3. Catch Cheating Spouse Text Messages 6. Top 10 Free Android Monitoring Apps 3. Top Android Spy Apps 4.
5 Apps For Spying On Your Spouse
Top 10 Spywares for iPhone 6. Part 1. FoneMonitor FoneMonitor is the most widely used and trusted iPhone and Android spy apps for cheating spouses. Pros: Provides easy access from any browser. Provides security against theft.
Spy On Any Android Phone & iPhone
Target device does not receive any notification from the installed app of mSpy. Cons: It lacks call recording service. Compatible issues with Symbian and Blackberry. No screenshots taking facility. Couple Tracker Free This app is very helpful as it keeps the partners updated on each other's activities. Pros: Sharing call history with each other. Couple tracker sends the details of any message before it is deleted.
Cons: Both the partners need to have the app installed on their phones as the app works on the mutual consent basis.
10 Best Mobile Spy Apps for [Updated]?
5 Ways to Spy on Husband's Phone without Him Knowing.
mobile monitor apps for nokia 8.
Top 10 Free iPhone and Android Spy Apps for Cheating Spouses!
cell phones with gps tracking.
No call recording facility, no access to any social media profile other than that of Facebook that too is limited to comments and likes. No support for iPhones and other operating systems. Spyzie Spyzie comes second on our list of best Android spy apps for cheating spouses. Pros: You can record calls and track the location of the target phone as well. It helps in tracking real-time GPS location.
Access to social media accounts such as Facebook. Cons: Though location can be tracked on an Android device, the same service is not available for an iPhone. Do not provide support for many social media platforms in case of an iPhone. Mobile Spy Agent It is also one of the finest free Android spy apps cheating spouse to monitor the activities of your spouse on the phone.
Pros: It is very helpful in providing easy access to photos and videos.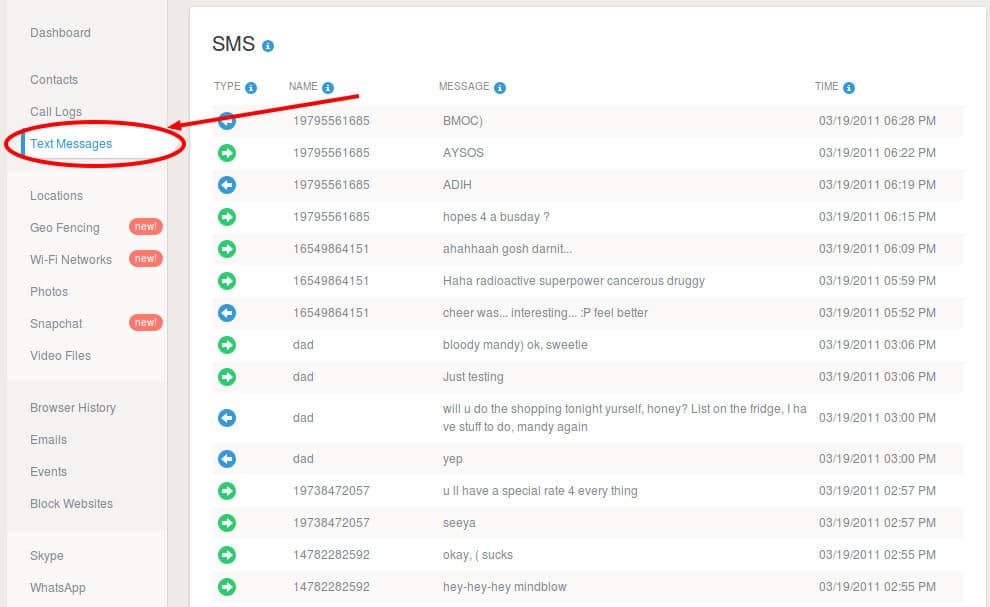 The user of Mspy can see all the apps installed on the target device. Browser activities of the target device can be monitored.
Part 2. Top 5 Free iPhone Spy Apps to Spy on Cheating Spouse
Cons: This program does not provide call recording facility to spy on cheating spouse cell phone free. Screenshots cannot be taken. Contacts cannot be blocked on the target device remotely. Part 2. GuestSpy iPhones do not allow access to data that easily because of Apple' security but if you have cloud ID that will come pretty handy.
Pros: Provides instant access to reading messages. Call recording facility is available. You can browse the URLs visited by the user of the target device. Cons: Does not provide screenshots taking facility. Not compatible with Blackberry and Symbian phones.
Best Way to Track Cheating Spouse, Cell Phone Tracking , Track Cell Phone Location
FlexiSpy Flexispy is a cross-platform monitoring app which can spy on cheating spouse cell phone free. Pros: It also provides a detailed report of calls from the target phone. Screenshots can be taken while monitoring the target device.
The most important feature is that it comes compatible with most of the operating systems. Cons: To be able to use all the features, users need to purchase the full package of Mspy. Users cannot block numbers remotely on the target phone. Phone Spy For iPhone This app allows its users to track their spouse, family members, and kids.